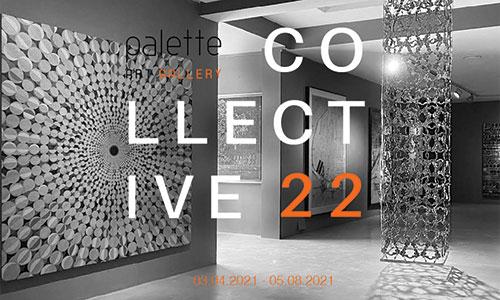 COLLECTIVE 22
03.03.21 - 05.08.21
ANJU DODIYA | APURBA NANDI | ATUL DODIYA | CHITTROVANU MAZUMDAR | GANESH SELVARAJ | G.R. IRANNA | GIGI SCARIA | JAGANNATH PANDA | MANJUNATH KAMATH | N. RAMACHANDRAN | POOJA IRANNA | PRASAD KP RIYAS KOMU | SARAVANAN PARASURAMAN | SHARAD SONKUSALE | SONIA MEHRA CHAWLA | SONAL VARSHNEYA | SUDARSHAN SHETTY | THUKRAL & TAGRA | VIBHA GALHOTRA | WAHIDA AHMED | YUVAN BOTHYSATHUVAR
"COLLECTIVE 22" is a group show of 22 renowned Indian Contemporary Artists organized by Palette Art Gallery. This show comprises a group of artists from different generations together to celebrate contemporary art with other art enthusiasts and patrons.
Join us from 3rd April 2021 to experience all the artworks that are represented in the exhibition.
"COLLECTIVE 22" is also a part of the iconic Delhi Art Week which is taking place from 3rd to 10th April.